First Christian Preschool
Toddlers, 3-year olds, and 4-year olds
Our First Christian Preschool program is designed to enhance each child's cognitive, language, social, emotional, physical and creative development at a level that is appropriate for your child's age.  Through our daily schedule, each child will be exposed to a variety of opportunities such as personal interaction skills, problem solving skills, and learning concepts through hands-on experiences.  Children will also be encouraged to learn through solitary play as well as large and small group activities.  As teachers, we will provide a positive environment that is nurturing and responsive to the child's needs.  You as parents are the most important provider of care and nurturing.  We feel that parents and teachers should work together as partners to enhance your child's development.
Each individual class of preschoolers will have their own daily schedule.  Classes may be involved together outside the classroom through activities such as music, outdoor playtime, field trips, holiday parties, and other occasions throughout the year.
Spiritual growth is also an important aspect of our program. Chapel, bible stories, and daily devotionals will be included in our preschool schedule.
All knowledge is from God and is full of spirit and truth when made relevant to God's purpose for mankind.  Children are uniquely created by God.  Therefore, each child has God-given talents to be nurtured.  Children advance at different rates through stages of cognitive, emotional, physical, social, and spiritual development.  We at First Christian School intend to provide learning experiences to enhance and stimulate all developmental areas in each child.  This will be accomplished by providing a quality education through:
Inspiring life long enthusiasm and love of learning, wisdom and knowledge.
Striving for academic excellence in each child through the use of high quality scholastic tools and curriculum.
Encouraging children to learn responsibility by participation in age-appropriate decision making.
Establishing a foundation of core Christian values and morals.
Challenging the child to respond to God in a personal relationship through Jesus Christ our Savior.
​We are committed to assisting the children in our care on their journey of self-discovery and helping to bolster their sense of positive self-esteem and self-worth.  Of course, in addition to this amazing hands-on journey in education, we at First Christian School are afforded the luxury of having God in our classrooms.  We are equally committed to sharing a wholesome, nurturing, Christian environment with the children in our care by providing them the experience of Jesus Christ.

Throughout the year, your child will be participating in the following:

Bible stories

Prayer

Scripture

Christian music, songs & finger plays


The concept of mission work through Samaritan's Purse and other activities​

​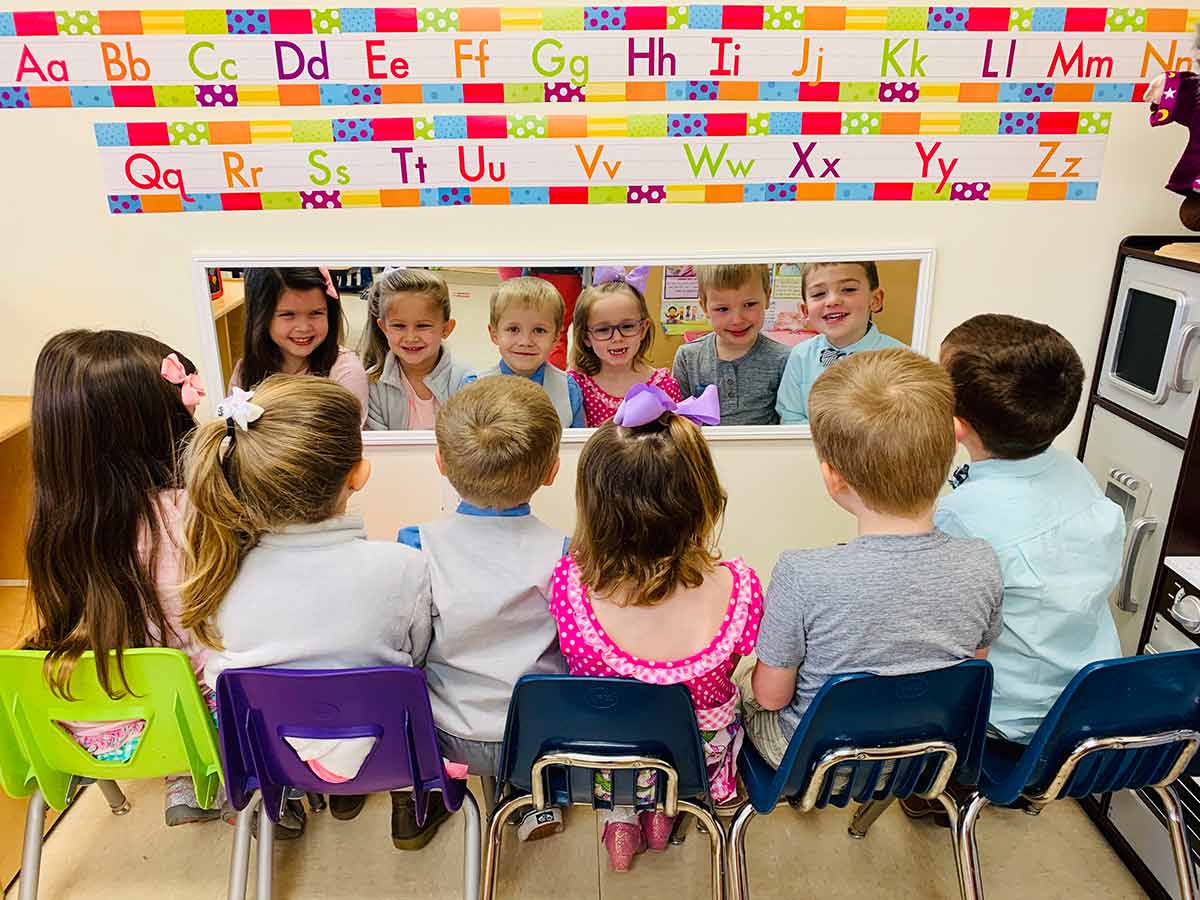 At First Christian Preschool, your child will be exposed to several thematic units that will introduce him/her to the following items:
PRIMARY COLORS
BASIC SHAPES
ALPHABET SYMBOLS
ALPHABET SOUNDS
NUMBERS
A VARIETY OF LITERATURE
PRE-WRITING SKILLS
PRE-MATH SKILLS
INDEPENDENT THINKING/PROBLEM SOLVING
CREATIVE THINKING
PRE-READING SKILLS