First Christian FCSA
Family Christian School Association (FCSA)
Our parent-teacher organization (Family Christian School Association) meets every other month.  The FCSA is a wonderful way for parents to show their support of our school and our students.  Parents are encouraged to get involved with school improvement projects and share ideas for fund raising events.  There are many exciting activities in the works for our school this year and we want all parents to be a part of it.
We realize not everyone is able to attend the FCSA meetings every other month so we are reaching out to you, with hopes of creating more involvement from all parents.  In addition to attending our meetings, there are other ways that you can help support
the FCSA:
Volunteer for the many fundraising activities scheduled throughout the year
Coordinate a fundraiser
Volunteer during events (Book Fairs, Picture Day, A/R Program, Santa's Workshop, Field Day, etc.)
Chair an event (Valentine's Party, Field Day, etc.)
Collect Box Tops for Education
Sponsor a classroom
The FCSA or Family Christian School Association is a parent driven program that supports and enhances our children's education, environment and much more. In the past the FCSA has raised funding for items such as the instant alert system that is used to communicate with families, playground equipment, scoreboards, and other valuable teaching materials. In a small school environment, parent groups and parent participation is imperative to success.
The FCSA will fund numerous programs this year that will benefit your child. We need your input, participation and opinions with regard to planning these projects, as they will affect your child(ren).
FCSA is an independent organization. We do not belong to any state or national affiliation. We raise money for FCS to help support our teachers and children. ALL monies collected and raised stays at First Christian School.
As always, we welcome your ideas to make our school year the best we have ever had. We thank you for your continued faith and support in our school! Should you have any questions regarding these items or any others, please do not hesitate to contact us.
Nikki Kallam, President
(Open), Vice President
Jennifer Powers, Treasurer
Amy Sherman, Secretary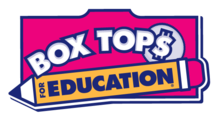 Box Tops for Education
Bring these labels to the school
Mark your child's name/grade/teacher on bag.
FCSA holds meetings every other month on the first Thursday at 6:30 (weather permitting):
​
September 3, 2020
November 5, 2020
January 7, 2021
March 3, 2021
May 6, 2021
*Childcare provided during the FCSA meeting.