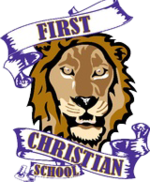 First Christian School
ACADEMIC EXCELLENCE.  CHRISTIAN VALUES.
First Christian School in South Hill, Virginia, was established in 1998 as a safe place for students to develop excellence in academics as well as learn Christian values. We currently offer opportunities for children from two years of age through 5th grade. Our preschool offers a developmentally appropriate program for both three and four year old students, in either a part day or full day atmosphere. Class sizes are limited to 7 students in our two year old program, 9 students in our three year old program and 12 students in our four year old program. The program, special events, field trips, and group activities are facilitated by our headmistress.
Our elementary school has classes for students from Kindergarten through 5th grade. Our Kindergarten classrooms are limited to 15 students with an aide. First through Third Grade classes are limited to 18 students and 4th-5th grades are limited to 20 students. It is our position that a smaller student- to-teacher ratio provides the individual attention necessary for each child to be successful.
The quality education that our students receive is expanded upon by the many learning opportunities provided by our music teacher, physical education teacher, and art teacher, all of which add to a well-rounded learning experience. In addition, extra-curricular activities are available to our students.
First Christian School is proud to provide a nurturing environment that builds upon the positive experiences that our students receive in their homes. In order to support our children in their endeavor to become productive citizens, our expectations for achievement and behavior are high. All elementary students are required to take nationally-normed standardized test at the end of each school year.

Preschool
Our Preschool program is designed to enhance each child's cognitive, language, social, emotional, physical and creative development at a level that is appropriate for your child's age.

Elementary
Our Elementary School is a safe place for students to develop excellence in academics as well as learn Christian values.  Our vision is to offer an advanced educational environment that will develop a lifelong relationship with Christ

SonShine Station
SonShine Station provides before and after school care for First Christian Students and students in the local community.  Summer Day Camps are provided during the summer.
Forms & Docs updated for 2021-2022 school year.